Posted by Lesleigh Kivedo on Nov 24th 2017
Gone are the days of boring wedding attire. The coolest couples are styling things up in matching his-and-hers custom clothing. Long after the fairy lights have been packed away and the thank-you notes have been sent, these personalised keepsakes will remind you of your special day for years to come. Wedding cake won't last forever. Your custom jerseys certainly will!
Pick a Side!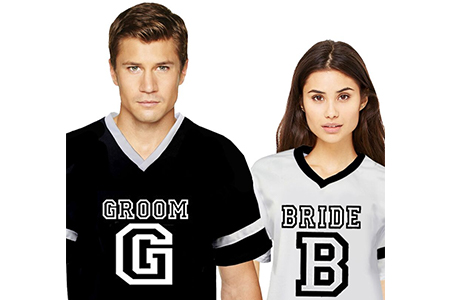 It doesn't get any more personal than matching his-and-hers logo jerseys. Make your matching merch part of the pre-wedding celebrations. And we don't just mean for you and your mister either. Include your bridal party in the fun too. We're thinking a day of no-holds-barred baseball before the big day: blushing bridesmaids batting for Team Bride versus gallant groomsmen rooting for Team Groom. Everyone then gets to keep their personalized jerseys as happy keepsakes from your wedding celebrations. Just take care not to play too rough… bruised shins (and egos) don't heal that easily!
A Sweet Reminder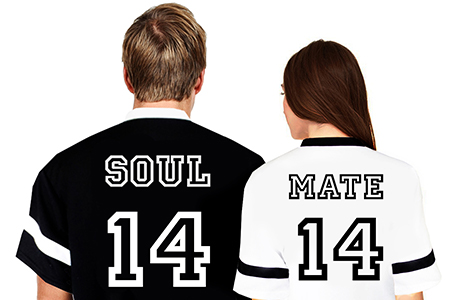 Whether you're the one getting married or it's a dear friend about to tie the knot, here's a special treat made especially for nearly-weds: a set of personalized matching couple jersey shirts. Plain and unprinted in the front, it's the back of the shirts that carry all the magic: standing side by side, they match up to display the couple's anniversary date! Then again, maybe there's a special day that holds significant meaning to the couple… it could be the date of the first kiss perhaps, or maybe the day she said 'yes'? Matching soul mate shirts are a sweetly sentimental gift for that special someone guaranteed to bond the pair of you together forever.
Reception Relic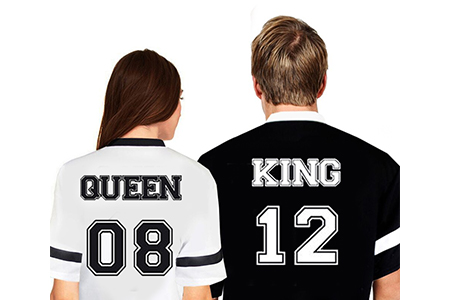 Move over, William and Kate - there's a new royal couple in town! Instead of changing into the traditional going-away outfits at the end of your reception, why not change things up a bit? Forget stiff suits and stark white dresses. Surprise your guests and do things your own way by slipping into a pair of stylized his-and-hers custom-made couples jerseys. Your bridal party can even follow suit by changing into their own wedding logo shirts. Every king and queen needs their royal entourage, of course. The coolest squad ever, if you ask us! Then, as the years go by, you could even turn your jerseys into a yearly tradition – wearing your matching custom jerseys on your anniversary every year.
Honeymoon Fare

All packed for that dream honeymoon? Make sure to keep space for a little trinket from the big day itself. Sure, you've got the gifts from your wedding guests but how about something personal just for the two of you? You'll make a formidable team wearing these matching custom couple jerseys proudly proclaiming your 'just married' status. Whether you'll be jetting off to some tropical resort or road-tripping cross country, a pair of matching sweaters, shirts, jerseys, etc... is sure to keep that wedding glow burning throughout your trip. Who knows? You may even score a few fancy upgrades as newlyweds!